C
ASE
D
OK
Efficient schedule management for clinical treatment pathways
Planning of the clinical pathway
CaseDok shows the whole clinical pathway of each patient in a comprehensible and clear way. This clinical path with all planned treatment sites and services can easily be planned, coordinated and adapted. In CaseDok that is not only possible for the current stay of the patient, but also for possible follow-up treatments. The whole hospital stay is shown clearly, therefore an integrated planning and view is possible.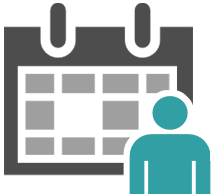 Time schedule

CaseDok provides a clear management of schedules as well as an effective time management. All appointments are fixed in the ward calendar, outpatient clinic calendar as well as in the patient calendar and are visible at a glance. Many features allows the exact adaptation of each appointment which means a high level of individualization.
Electronic activity recording
Due to the electronic handling of all medical services of a patient (demand as well as confirmation of services, CaseDok enables a complete documentation of all patient-related services. The settlement is carried out automatically.